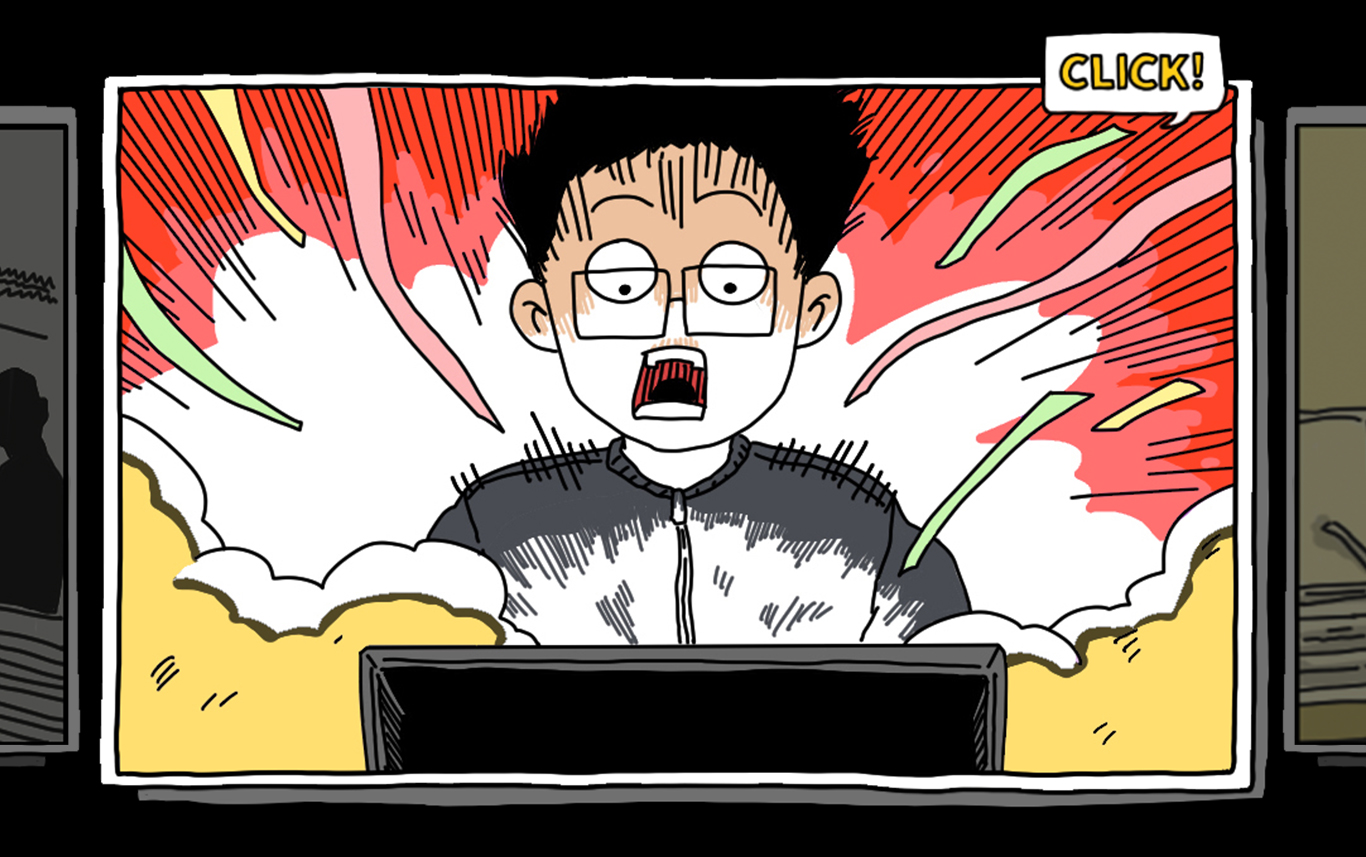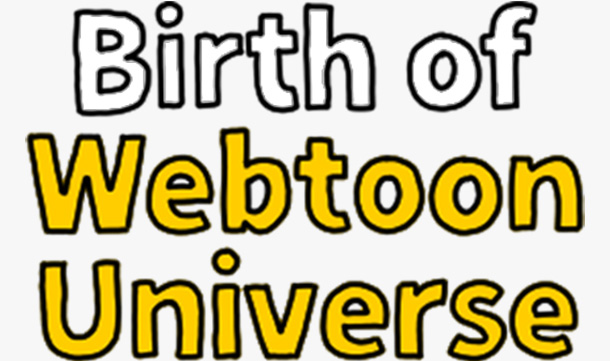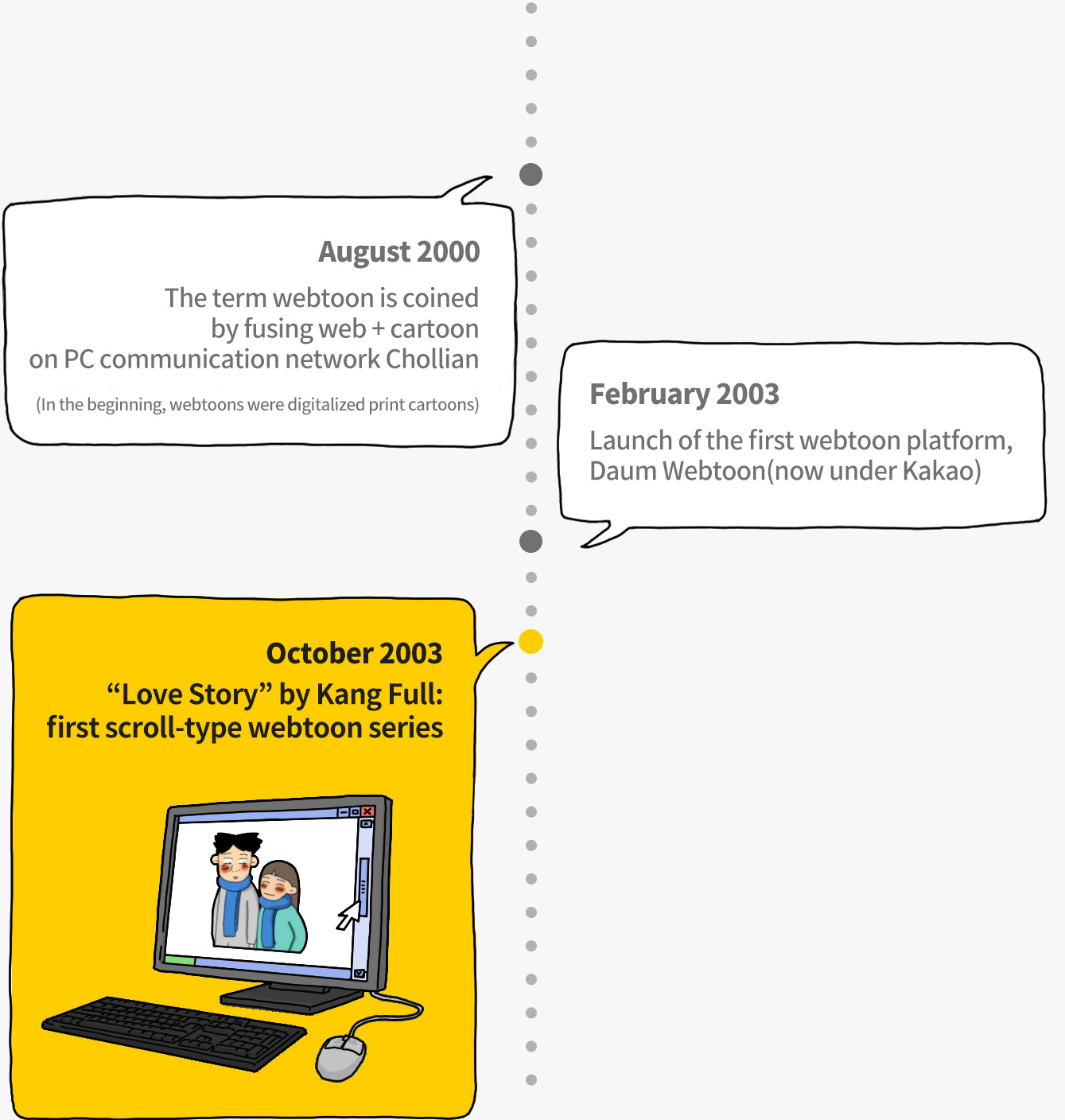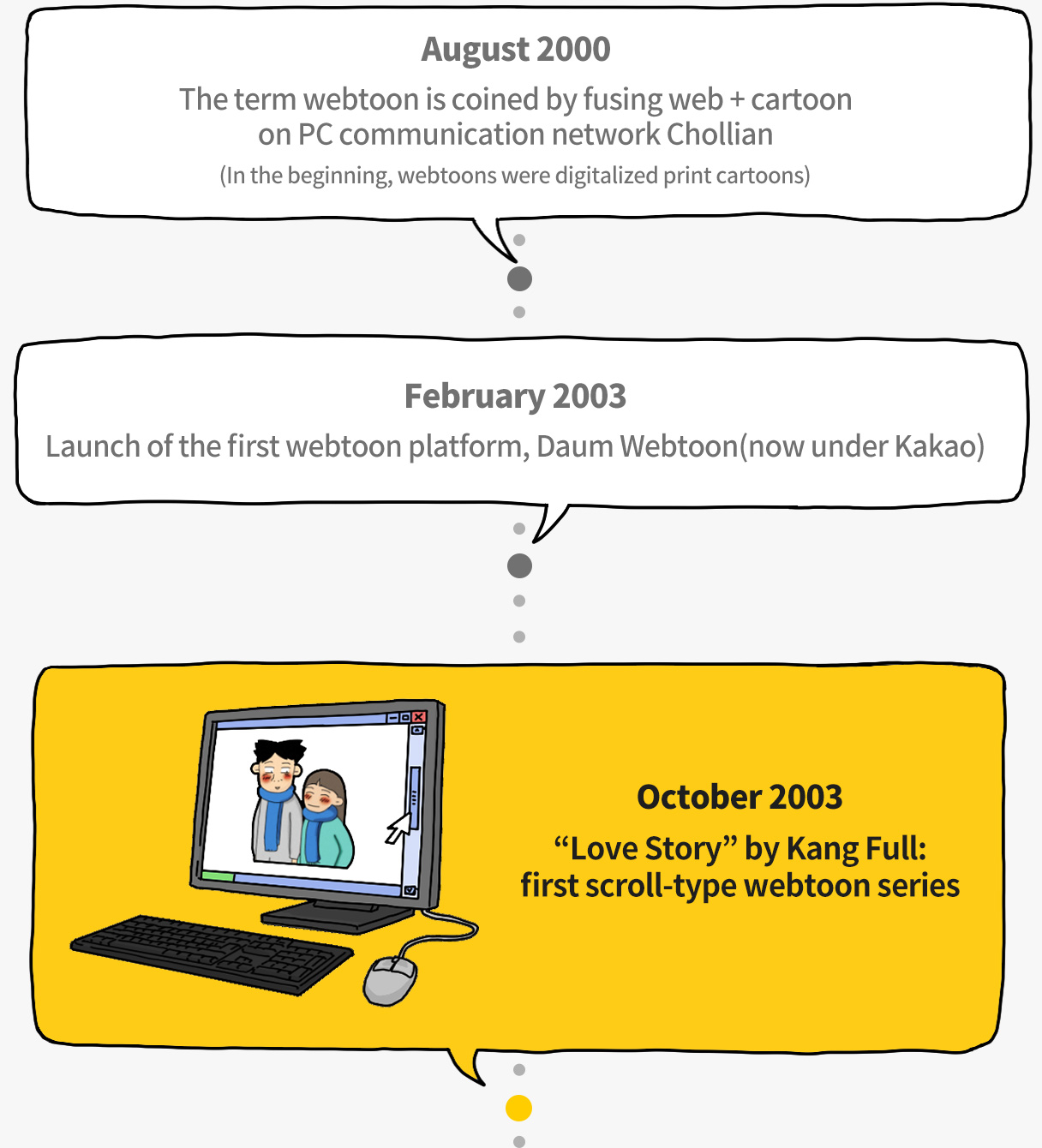 In South Korea, webtoons have taken over the comics market but they weren't always popular. In fact, the origin of Korea's first webtoon platform – Daum Webtoon – dates back to 2002, starting as side-feature alongside the internet portal Daum's news curation service.
Kang Full, an aspiring comic artist, drew short comic strips for Daum, World in Comics (now called Daum Webtoon), but he found the job uninspiring and dreamt of creating a comic book series with a story of his own. A hopeful Kang knocked on the doors of over 20 publishers, only to be rejected by all of them, as his cartoons were deemed too unsophisticated to go mainstream.
Discouraged, Kang's last attempt was to propose publishing his work on the Daum portal. To his surprise, he struck a deal and that's how the world's first webtoon, "Love Story" was born – an in-house dream project that sparked a massive new industry.
First Webtoon Blockbuster
Kang Full's "Love Story" was the first feature webtoon created for online users, and this is when the term webtoon first came into use. Prior to this, webtoons referred to online comics that were usually just scanned print comics, but "Love Story" changed this paradigm by creating content tailored for online viewing.
Webtoons appealed to a digital audience through a new drawing technique and storytelling method. Readers could comfortably view content simply by scrolling down, and animation effects along with background music added to the immersion effect.
Webtoons were also in line with new digital consumption behavior given that a new episode was uploaded every week, sometimes more frequently. This set webtoons apart from traditional print comics, which often released monthly updates.
The response was explosive. "Love Story" ran between August 2003 to April 2004, boasting over 32 million views and 250,000 comments. It was an unprecedented phenomenon.


The success of "Love Story" drew other portal sites to the party. During the "portal boom", portal sites popped up everywhere, doing whatever they could to lure users, making webtoons all the more competitive. Webtoons seen as important cultural offerings emerged during this time, including the romantic series "The Great Catsby" by Kang Doha and "1001" by Yang Young-soon.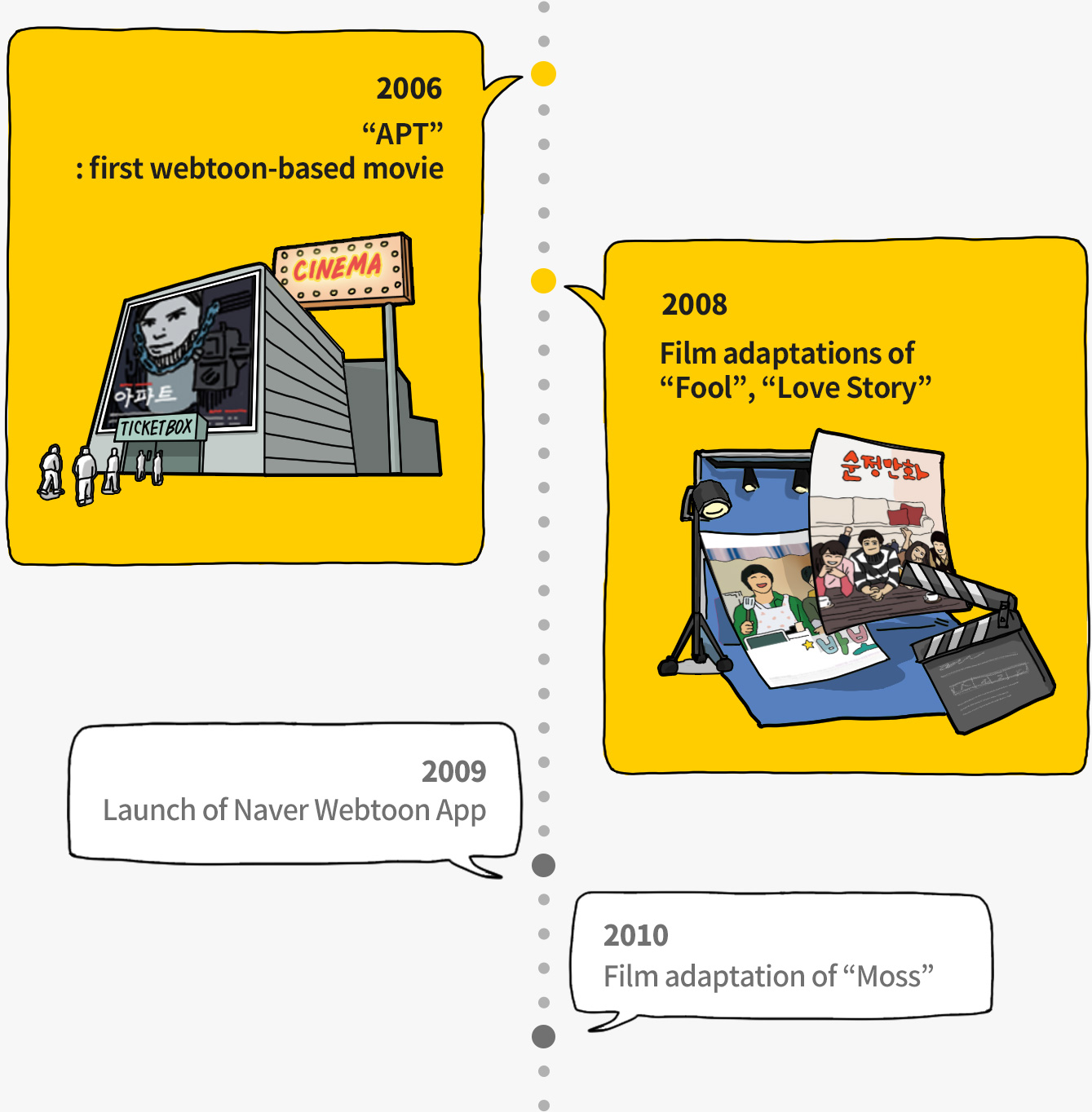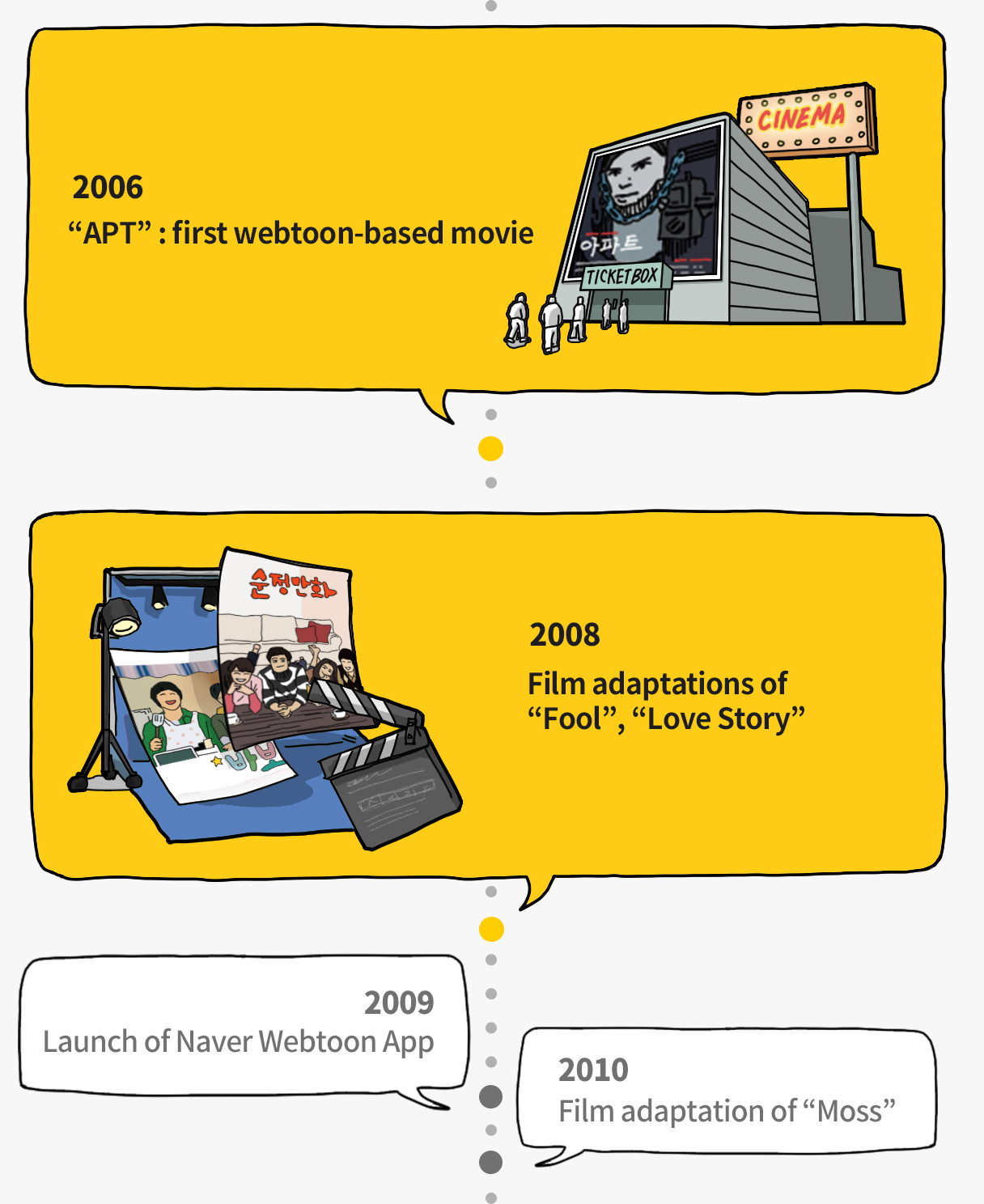 Webtoon Artists' Claim to Fame
Daum Webtoon flourished as a hub for hopeful comic artists, from amateurs to veterans, enticed by the new genre. Well-known comic book artist Yoon Tae-ho published mystery thriller "Moss" on Daum Webtoon in 2008 and enjoyed great success, leading to a film adaptation in 2010. Yoon went on to release political crime drama "Inside Men" in 2010 and office culture and relationship series "Misaeng" in 2012, both smash hits that were adapted into television dramas and films.
Naver was another portal site that contributed to the webtoon ecosystem. The portal launched Naver Webtoon in 2004 and rose to fame through Cho Seok's webtoon "The Sound of Your Heart" in 2006. Cho was one of the early webtoon artists who gained fame. His longest-running webtoon series ended in 2020, surpassing all the webtoon records – 7 billion views and over 1.5 million comments.
Webtoons have disrupted Korea's traditional comic book industry. Previously, comic book consumption generally centered around two commercial arenas: comic book rooms and comic book rental stores. Consumers would pay a fee to read comics at a comic book room, or rent comic books from rental stores. Consumers rarely purchased comic books out of their own pockets.
The industry's main source of profit was by selling content to comic business operators instead of consumers – but this began to change with the arrival of webtoons. Now consumers could easily read comics on their computers or phones without having to physically make a trip to a comic book room or rental store. Webtoons also became more diversified, offering a wide range of content for readers and most importantly, they were free – making them all the more attractive.
Webtoon's efficiency and convenience led to the gradual disappearance of comic book rooms and comics rental shops. The number of comic book rental rooms dropped from 4,238 in 2008 to 3,397 in 2012. The sector's revenue dropped from $133 million in 2004 to $60 million in 2010, according to the Korea Creative Content Agency. Meanwhile, the webtoon industry shot up from $40.5 million in 2008 – when data was first collected – to $56 million in 2012.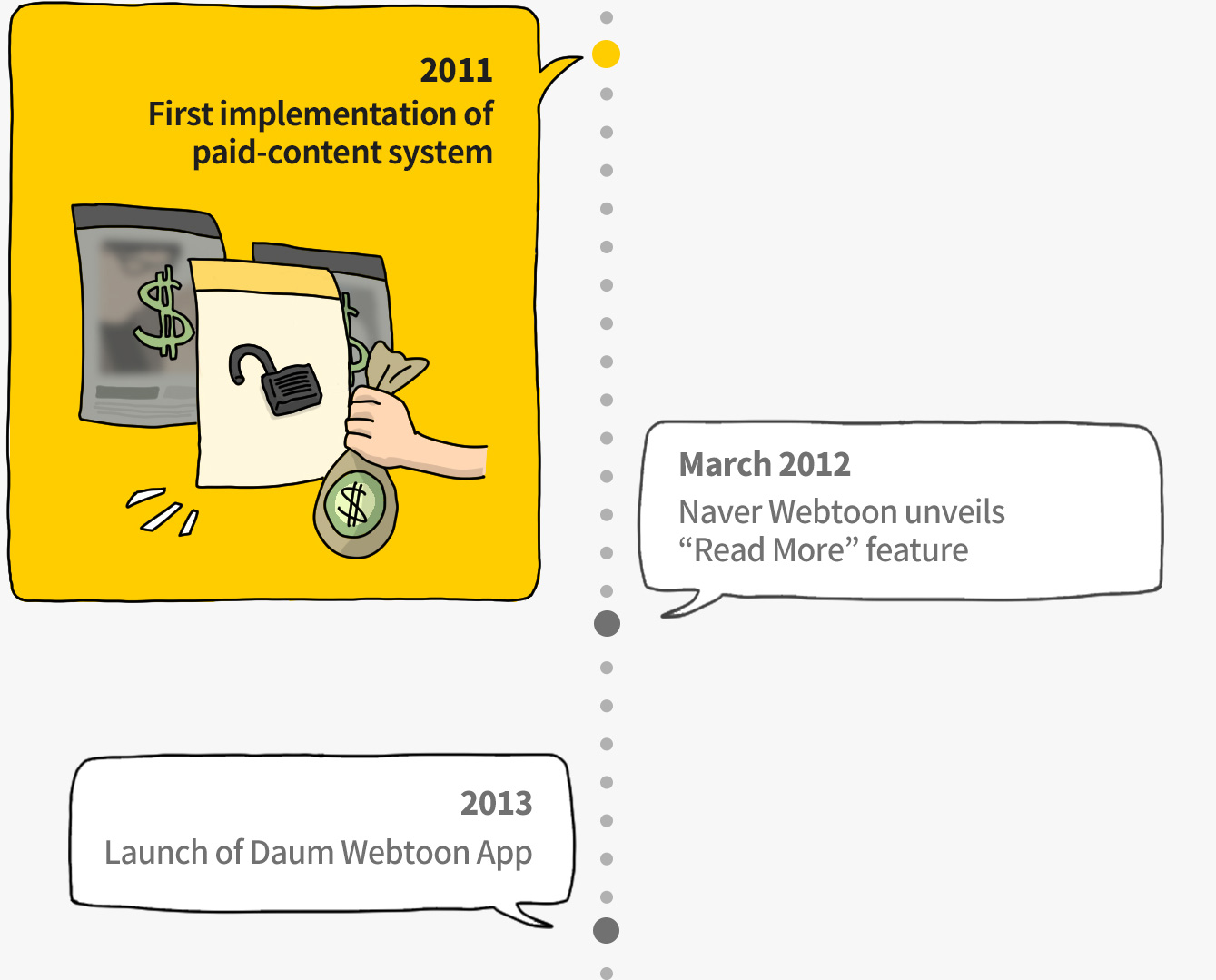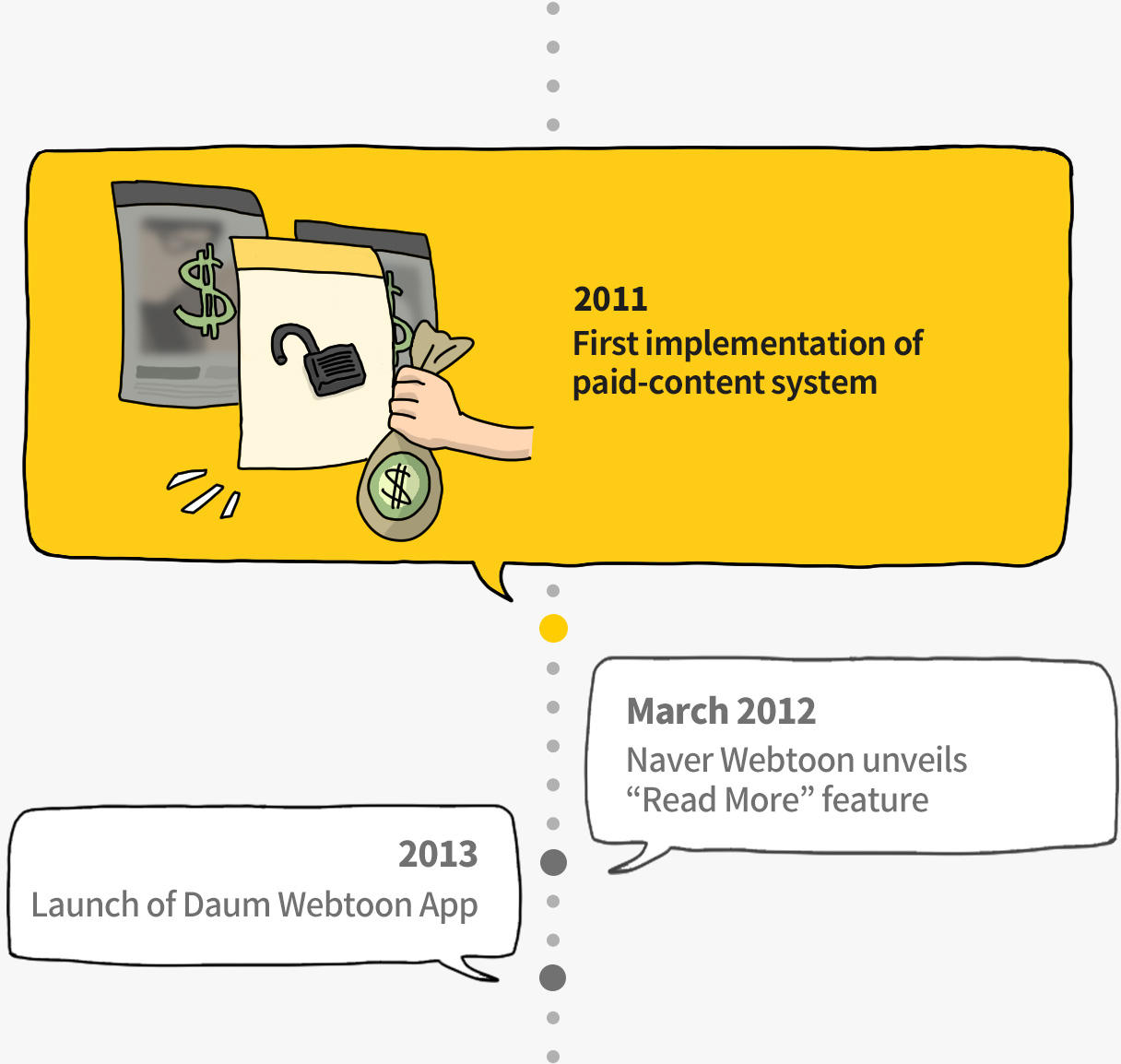 As Revenue Model Evolves; Webtoon Market Thrives
Webtoons continued to gain popularity throughout the early 2000s. Now, it became crucial to transition webtoons into profitable businesses to enhance quality and maintain operations.
In the beginning, webtoons were free and platforms earned money by selling banner advertising space. Ads soon evolved into product placements alongside branded webtoons that contained promotional content.
For example, local confectionary company Haitai Confectionary & Foods commissioned the webtoon, "First Sweet," wherein each episode of the romantic story products were used to capture different emotions of relationships.
In 2011, Daum Webtoon introduced a paid content system whereby users could pay to read completed works that were no longer available to the public.
"Monetization is key to a healthy and sustainable ecosystem," said Park Jeong-seo, Chief Producer at Daum Webtoon. "We implemented a paid system for Kang Full's completed works and then expanded from there," he said.
In 2013, Kakao Corporation launched KakaoPage service with contents venture 'Podotree' (also KakaoPage Corp's former name), a webtoon platform which transformed the revenue landscape for webtoons. Initially, the platform was an open market not entirely focused on webtoons. However, in 2014 KakaoPage decided to focus on webtoons and in turn, introduced a "wait or pay" system through which users could either wait for the next episode or pay to read next episodes in advance.
"Wait or pay is a very simple idea, but it decisively revolutionized our revenue model in that webtoons could now be monetized," said Joy Lee, CEO of KakaoPage.
The idea behind this business model is that read¬ers would be willing to spend money if the webtoon could sustain their interest after first few free episodes. The strategy was successful, with the platform's transactions surging from $17 million in 2014 to $85.5 million in 2016 – more than fivefold in just two years.
KakaoPage's "wait or pay" system is now a global standard in the webtoon industry, adopted by many online platforms around the world including Piccoma(Japan), Tencent Dongman (China), Tapas Media (US) and KakaoPage Indonesia.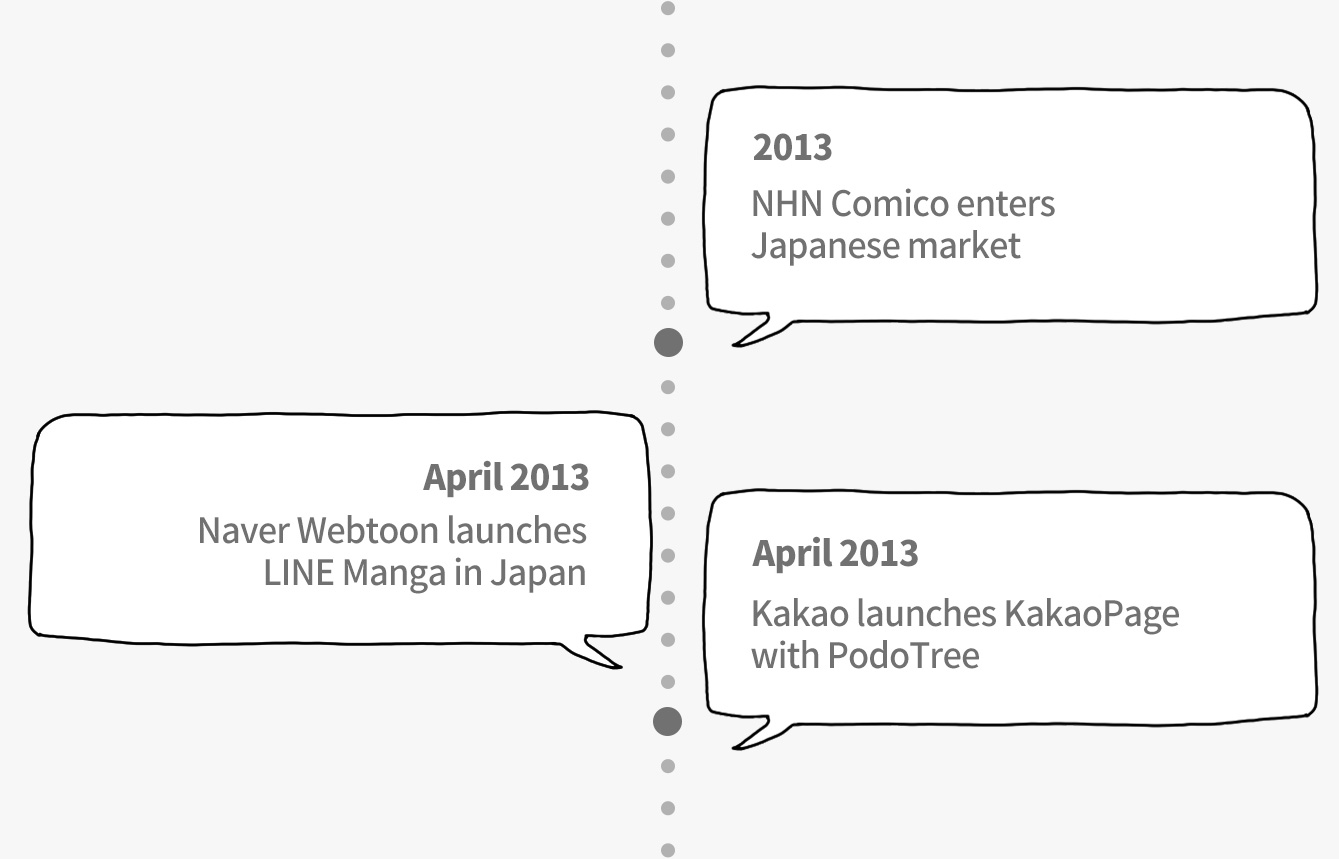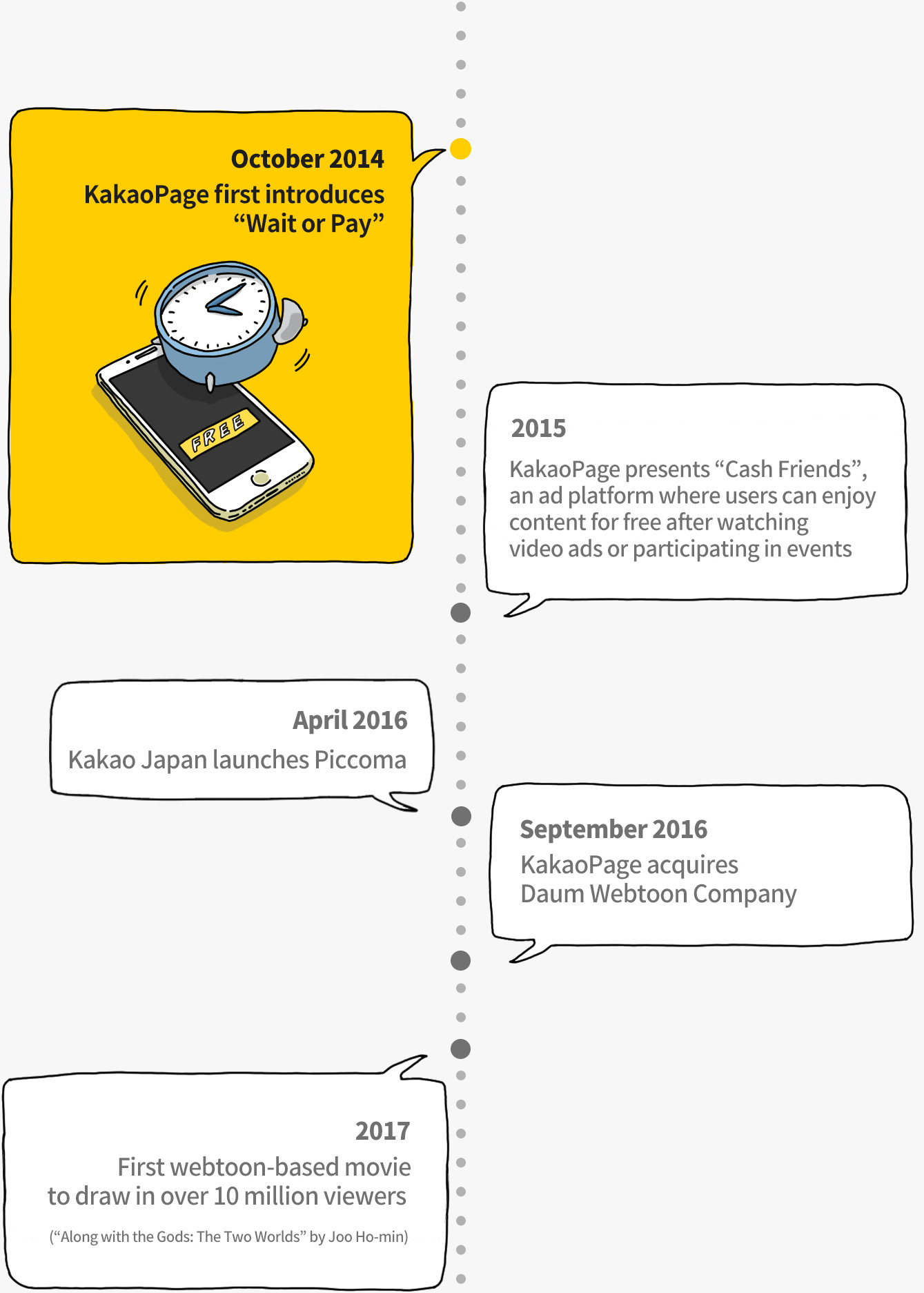 The Expansion of Webtoon As An Intellectual Property
The webtoon revenue model took another leap in 2013 when HUN's "Covertly Gloriously," a popular webtoon about a North Korean spy living in South Korea, was adapted into film. The movie drew in 1 million moviegoers in its opening week, becoming the first commercial blockbuster based on a webtoon. The film's success marked the beginning of a series of webtoon adaptations for both film and television.
Yoon Tae-ho's "Inside Men" and Joo Ho-min's "Along with the Gods" drew in over 7.07 million and 12 million moviegoers, respectively. Television adaptations of Yoon Tae-ho's "Misaeng" pulled in an impressive 8% rating on a cable network, and Gwangjin's "Itaewon Class" became Netflix's most-watched show in Hong Kong, Taiwan, and Singapore.
Such expansion into various fields demonstrated new possibilities and opportunities for webtoons. In 2018, Korea Telecom's Economics & Management Research Institute reported that webtoon-based IP profits accounted for around 73% of the direct profits made from webtoon creation and distribution.
Webtoon Revenue Model Transforms The Industry
As webtoons began to progress in their new revenue models, Korea's webtoon industry grew exponentially. Before the adoption of the revenue model, Korea's webtoon industry posted a 23.4% growth rate between 2007 and 2012, from $45.2 million won to $56 million, respectively. However, between 2013 and 2018 this surged to staggering 227% growth, jumping from $70 million to $227 million, respectively.
Webtoon platforms weren't the only ones to benefit from the flourishing revenue model. Participa¬nts of the webtoon industry, including print studios and publishers that had nearly gone out of business, were able to comeback thanks to a rising demand for collectible print webtoons.
Between 2007 and 2012, the comic book industry posted reverse growth at -0.01 percent from $651 million to $648 million, but it saw a huge turnaround between 2013 and 2018, posting robust 47.7% growth from $681 million to $1 billion, respectively.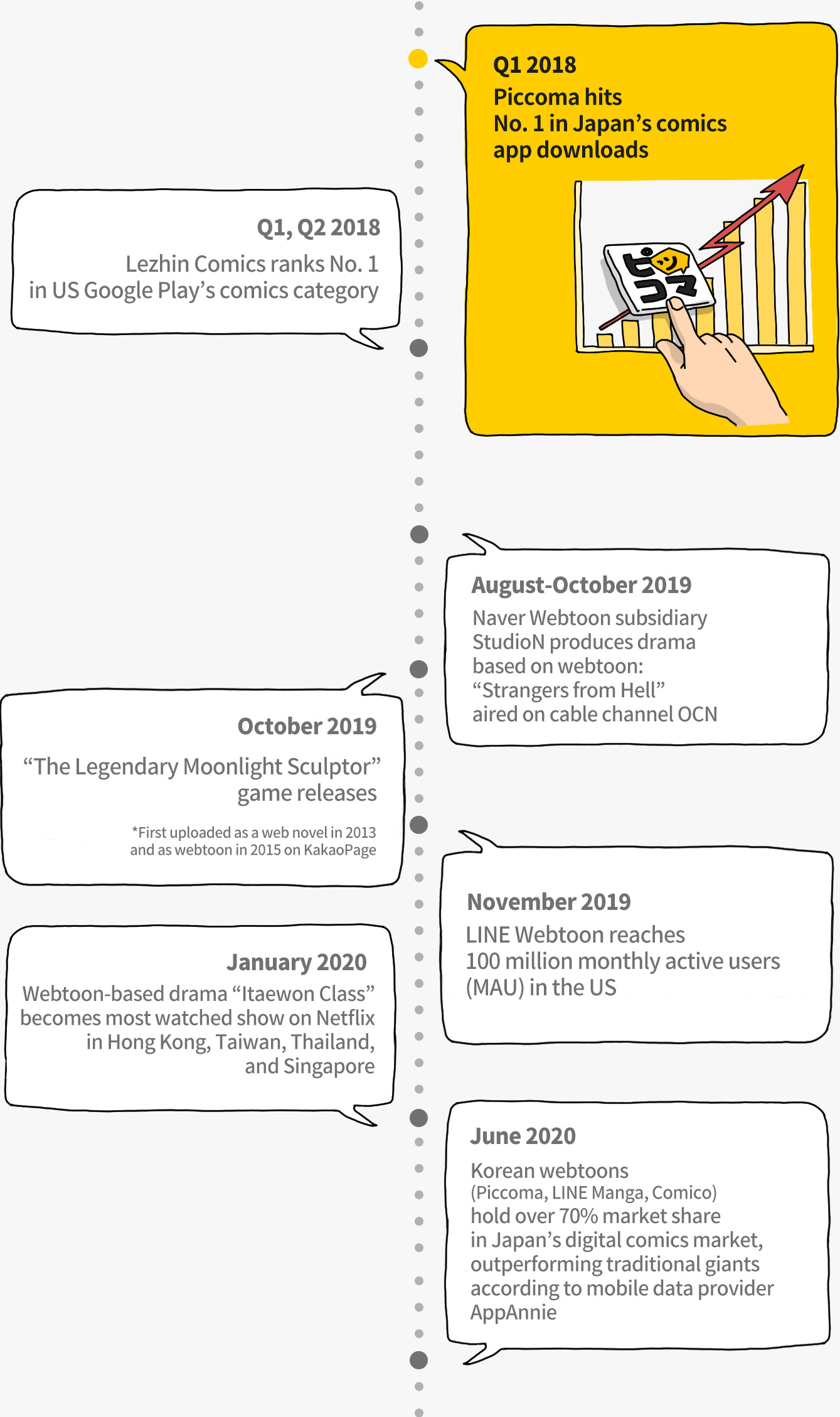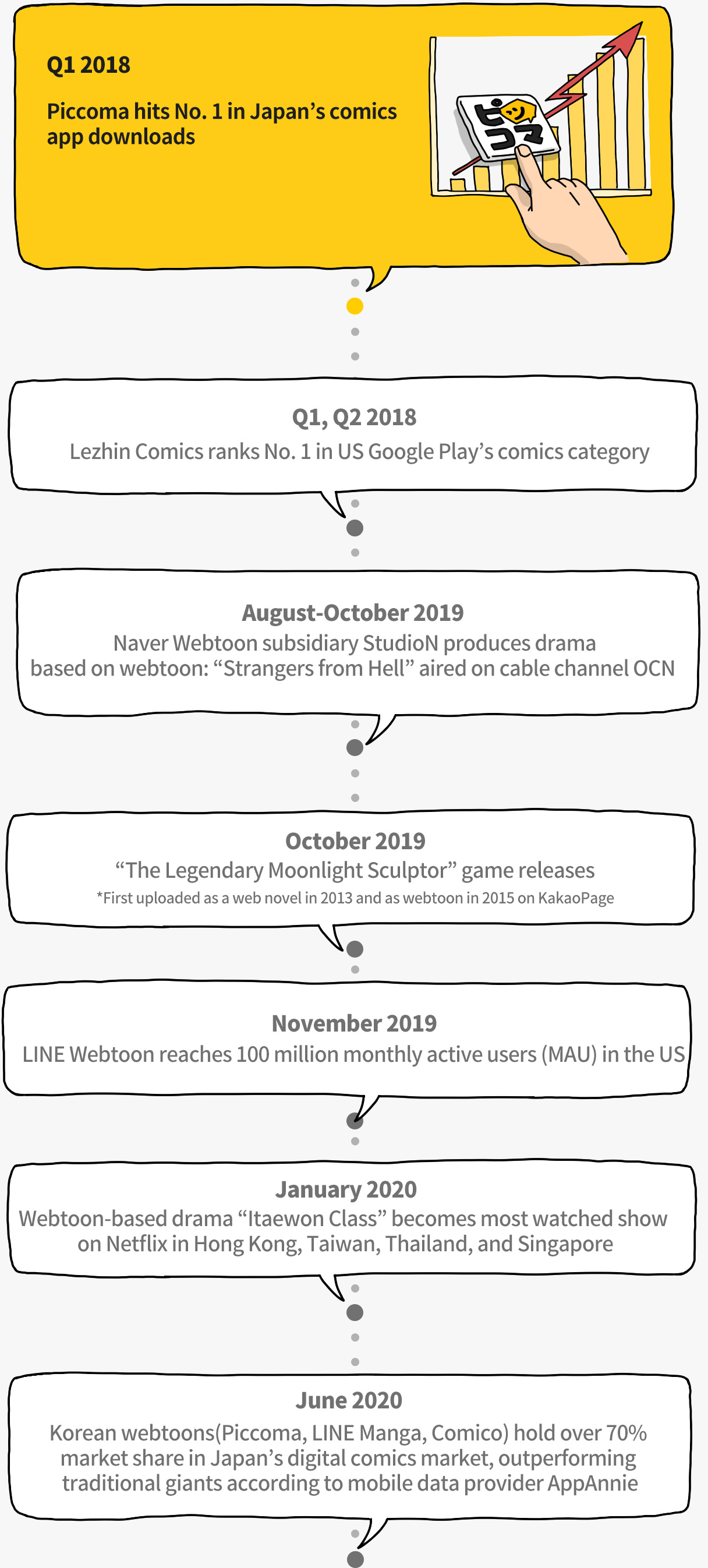 Webtoons Go Global
Riding on their domestic success in Korea, webtoons set their sights on global markets. Naver launched LINE Manga in Japan in 2013, the first venture for webtoons abroad. The company eventually also launched services in English, Chinese, Thai, Indonesian, Spanish and French.
In 2016, Kakao Japan launched Piccoma, a platform that offers both Japanese digital comics and webtoons. Webtoons accounted for 40% of the platform's revenue, signaling its elevated status in a country considered the birthplace of comics. Although Piccoma tapped into the Japanese market a few years later than industry peers LINE Manga, NHN Comico, and Kodansha MagaPoke, the company is marking impressive jumps in revenue. The company posted $19.2 million in 2017, which rose to $123 million in 2019.
Meanwhile, Korean webtoons have enjoyed remarkable success in Japan. In June 2020, three webtoon providers -- Piccoma, LINE Manga, NHN Comico -- held over a 70% market share in Japan's digital comics market, outperforming traditional comic giants. Notably, Piccoma was the top-grossing non-gaming application in July on both Google Play and App Store in Japan.
In the US, Naver launched the Canvas platform, where amateur artists could freely upload their work. If a webtoon gained a strong fanbase then it would be recruited to LINE Webtoon services. Naver's strategy was a success as Canvas produced a global hit, "Lore Olympus," which has over 250 million accumulated views.
Webtoons are constantly evolving as well. Kakao's Piccoma uses big data and artificial intelligence to offer user-customized promotions. For example, it sends users reminders to visit the platform based on their history and offers free coupons to first-time paying users who were previously using the service for free.
Naver's LINE webtoon uses its artificial intelligence recommender system (AiRS) to recommend webtoons based on the users' history. After LINE Webtoon incorporated AiRS, there was a 30% increase in North America-based Android users' consumption per person and a 10% increase in revisits.
"We are fully prepared. We will show the world the enormous possibilities of Korean webtoons," said Kim Jae-yong, CEO of Piccoma.
Written by Min-ki Koo; Edited by Danbee Lee and Daniel Cho
Content Director: Gayung Chu gychu@hankyung.com