Firms across different sectors use industrial PDAs for scanning products with barcodes or other identification codes such as radio frequency identification (RFID) tags. The device users can scan the items to identify product specifications and create relevant data for business purposes.
The PDAs also collect customer payment data and transmit them to the company database using wireless networks. The companies then assess the payment data to analyze buying patterns for more efficient customer management.
Point Mobile's range of industrial PDAs can be largely categorized into personal data terminals (PDTs) used for warehouse and logistics management and enterprise digital assistants (EDAs) used for retail store management as well as transportation and delivery.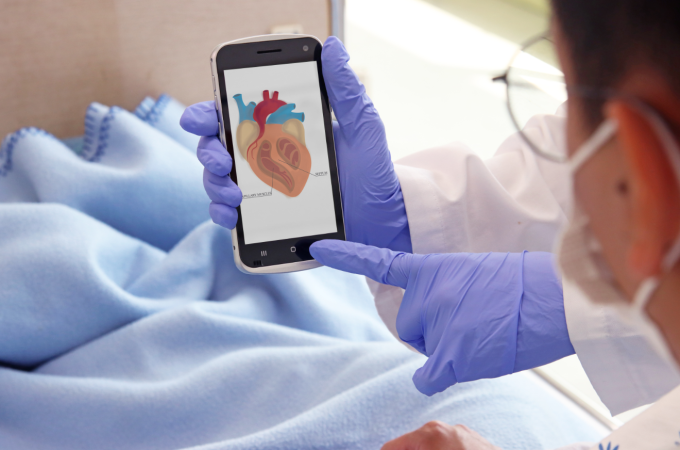 Point Mobile says that durability is the most critical criterion of PDTs and EDAs. PDTs, also known as rugged handheld terminals, must scan the barcodes thousands of times a day at the warehouses or distribution centers. PDTs must be physically well protected to avoid any potential damage from external shock such as being dropped on the hard ground. Likewise, EDAs, which are smartphone-shaped, must be able to fully transmit sales data under any extreme conditions using the mobile network.
Clients note that the company's range of products adeptly addresses their primary requirements: design, portability, durability, ruggedness as well as prompt maintenance services.
"Our industrial PDAs allow enterprise users to further install new functions according to their needs. The clients can also receive prompt technical support and maintenance services," said the CEO.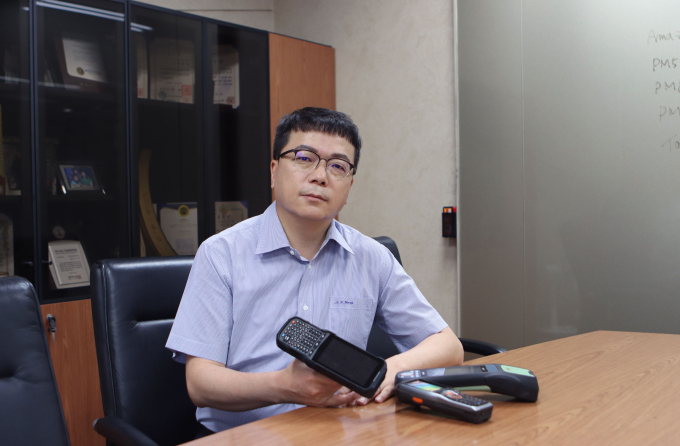 After building a successful track record as an OEM and ODM supplier to the world's leading firms, Point Mobile launched its own brand of devices in 2013. The company supplies its products to OEM/ODM companies, sales distributors as well as major market players including Honeywell, Italy's Datalogic, Sweden's Handheld Group and Japan's Casio.
Analysts also note that 88% of the company's 62 billion won ($54 million) revenue in 2019 came from overseas, thanks to its continued efforts in building a strong international network of retail and distribution companies over the years.
In the global market, a major turning point for Point Mobile was its $200 million product sales contract with US retail giant Amazon in 2020. Under the deal, Point Mobile will be supplying its products to Amazon over an eight-year period, which replaces its existing PDAs used at its fulfillment and distribution centers every three years. Point Mobile says it expects exponential sales growth from Amazon's announced plan to build more logistics centers all around the world.
"Amazon chose Point Mobile over US-based industrial PDA makers for our technical expertise and superior product quality. We will be able to dramatically ramp up sales with our strong business ties with Amazon as a momentum," added Kang.
Moreover, Point Mobile also signed an exclusive sales contract with Europe's biggest supermarket chain and the world's eighth-largest retail industry player, Aldi. Point Mobile will be supplying its PM90 devices for use within Aldi supermarkets.
The company is strengthening its foothold in the domestic turf at the same time. In April, Point Mobile signed a 4 billion won ($3.5 million) supply deal with the fermented drink maker, Hy Co., formerly known as Korea Yakult, and was also selected in July as Korea Post's PDA supplier for its postal services. About 4,000 devices will be supplied to Korea Post.
Category
Product Detail
PDT
Rugged Handheld Terminals
Overview
Usage
Main Functions
Device used at warehouses and distribution centers; users can press the key buttons while holding products in the other hand.
Mainly used by industries that use scanners, such as warehouse management, logistics and medical services sectors.
3G, 4G LTE, numeric & QWERTY keyboards, high durability (1.8m fall), long-range (10m) scanning.
EDA
Enterprise Mobile Computers
Overview
Usage
Main Functions
Smart, all-purpose mobile computer used for real-time checks on product information, price, specification, function, and inventory. Using mobile networks, it can also be used for probing and transmitting water or gas consumption data to a central server.
A wide range of usage in the retail, public utilities (water, gas and power consumption), travel and accommodation, health, and fashion industries.
4G LTE, latest 2D scan engine, 5-inch display with near field communication (NFC) & magnetic stripe reader (MSR) functions, high durability (1.5m fall).
EDA
Rugged Enterprise Smartphones
Overview
Usage
Main Functions
Rugged smartphone with high level of software security and physical durability. To be used for maximizing production and work efficiency. Can withstand extreme environments for long periods.
A truly wide range of usage from retail, on-site service, public utilities (water, gas and power consumption), travel & accommodation, health, to fashion.
4G LTE, fast-roaming Wi-Fi, Push-to-talk (PTT), 5-inch strengthened glass, high durability (1.2m and 1.5m falls).
Accessories and Others
Overview
Usage
Main Functions
Single-finger Bluetooth barcode scanner to be used in connection with smartphones or PDAs.
Logistics, sales management and other services.
Bluetooth, GPS, NFC.
Overview
Usage
Main Functions
High-performance ultra-high frequency (900MHz) RIFD reader to be used with PM85.
Stock management at warehouses, logistics and delivery management, retail store management.
Can tag a large volume of products at the same time. Has a read range up to 6m and read time up to 700 tags per second. Can be connected to smartphones or use external networks, including Wi-Fi and Bluetooth.