Sandbox Network was a latecomer to the game of digital creator management, as there were already industry players who had adopted a similar business model both globally and in Korea. CEO Lee believed it to be essential for Sandbox to build an ecosystem centered around digital creatives to differentiate the company from its competitors.
"Foreign MCNs established before Sandbox Network made profits by offering back-office services and receiving service fees. I found this system to be unsatisfactory since they were making money by offering basic level services that didn't add value to the creator's work. I thought it would be much more reasonable for a business to help the creator earn greater income, and share the profit," Lee said.
CEO Lee defines Sandbox Network as a publisher that invests in and fosters the growth of content IP. In other words, the company plays an active role in helping digital creators use their IPs to produce diverse content and also provides a streamlined distribution system for them to maximize their income.
The company's revenue comes from taking a percentage cut from the advertising and content sales, alongside additional revenue that arises in this process.
For instance, Dotty was just a gaming YouTuber before Sandbox Network. But he now holds a robust IP portfolio encompassing publication, musicals, and merchandising. Dotty's content IP came to be on the same level as that of established animation brands like Pororo and Pinkfong.
CEO Lee also characterizes Sandbox Network as a comprehensive service provider for creators. Since content creators are the greatest assets to the company, Lee believes that it is foremost for the company to satisfy the needs of the creators to attract and retain a pool of strong talent. 
"While it's possible to temporarily retain talent through binding contracts that forbid creators from working with other MCNs; I didn't think that it was an appropriate business strategy in an industry that thrives off the creative freedom of individual content creators," Lee explained.
Sandbox Network assigns producers to support individual content creators to plan and produce content and also connects them to advertisers. Marketing; publicity and press releases; education; and administrative assistance including handling copyright issues are just a few examples of the holistic service that the company provides.
"Each creator has a unique relationship with the company as they each have different needs. Some creators want Sandbox Network to handle all financial matters so that they can focus their energy on creating content while other content creators want the company to give them a more professional infrastructural support in producing and managing content," said Lee. 
It is with this philosophy that Sandbox Network runs its Creator Experience (CX) team. The CX team analyzes creators' unique preferences and creative styles and then sorts them into one of five different types of "persona(s)". By providing a service that caters to a specific persona, the company can increase the creators' fulfillment and effectively manage their content.
As of March 2021, there are around 450 creator teams at Sandbox Network. The company has seen a significant rise in the number of teams over the past five years -- from 73 teams in 2016 to 340 teams in 2019.
Sandbox Network has also branched out of their initial client base of gaming YouTubers to diverse creative fields including lifestyle, Mukbang (eating broadcast), and entertainment. Even household names like Yoo Byung-Jae have joined the Sandbox family.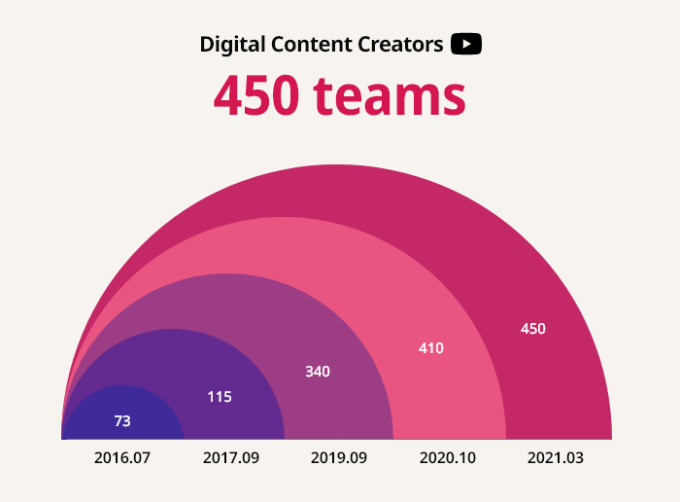 "We owe our success to word-of-mouth marketing as word quickly spread that our company is a business that truly supports creators. As the number of creator teams grew, we achieved economies of scale that enabled us to provide a wide range of services including advertising, consulting, legal advising, and marketing. We couldn't afford a full legal service team if we only had ten creators," Lee explained.
Client creators concur that Sandbox Network is not your average management company. 
"Many MCNs say they are on the side of the creators, but Sandbox Network is the only company that truly revolves around their creators' needs," said YouTube food creator YAMMOO.
According to game content creator Ggambring, Sandbox Network recognized his potential and value when he only had 150 subscribers. Now Ggambring boasts an impressive 1 million subscriber count.
"Sandbox is an MCN of the creator, by the creator, and for the creator," Ggambring said.