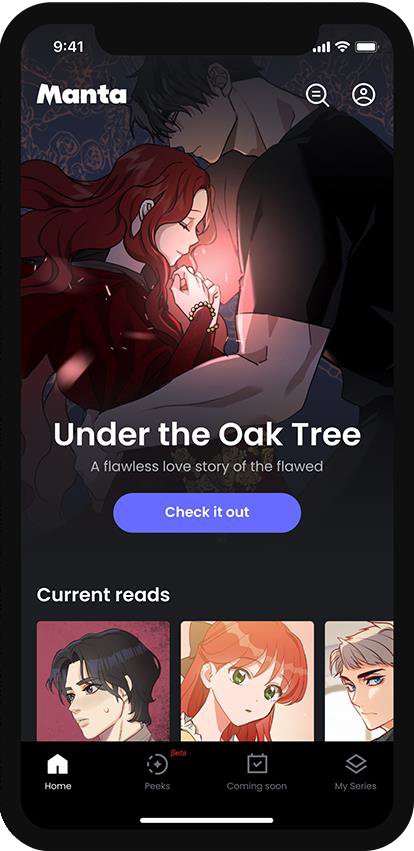 RIDI has been branching out its services into the global market while broadening its offering of IP-based content materials. At the end of 2020, RIDI rolled out a global webtoon platform, Manta, to ride on the worldwide webtoon hype brought on by the COVID-19 crisis, which triggered high demand for content due to the extended social distancing and contactless environment.
In the past, RIDI had logged some overseas revenue, mostly owing to Korean residents who were either studying or living abroad. The launch of Manta, positioned as a global platform, marked the official start of RIDI's global ventures.
Manta experienced immediate success upon its release, emerging as the No. 1 app on Google Play Store's comics category in 15 countries including the US, Singapore, Portugal, Canada, Sweden, Belgium and China.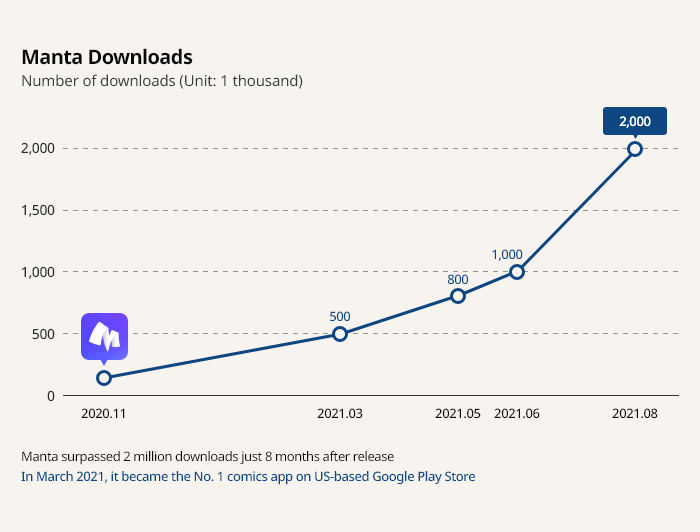 "Manta's user acquisition speed is about 16 to 17 times faster than RIDI's e-book service, growing at a pace that we've not experienced over the past 12 years," said Bae, adding that RIDI's content portfolio, rich in both quantity and quality, is the driving force behind Manta's success.
In fact, Manta has been receiving positive feedback for its quality. As of August 2021, Manta's average rating on Google Play Store and Apple's App Store stood at 4.55 and 4.77, respectively.
As RIDI continues to increase its global footprint, the company has also been ramping up the hiring of international talent. The company's team comes from various backgrounds, made up of global employees from eight countries including South Korea, Taiwan, Spain, New Zealand and the US.
Going forward, RIDI will have to go up against large domestic content companies such as Naver and Kakao, which run the same business model. But the IP market, including webtoons, is destined to become a massive industry and the content sector is unique in the sense that market share is divided among companies that have winning content. And RIDI is positive that it can secure a loyal audience pool thanks to its original webtoons based on exclusive IPs.
"The thing about webtoon platforms is that there's low loyalty among readers. Content materials have far-reaching influence and readers will choose a platform based on the content – not vice versa," Bae said, explaining that this is different from other sectors such as shopping platforms or search engine platforms where there are high entry barriers for latecomers.
According to Bae, both a coexistence between platforms as well as a dominant player being overturned are possible scenarios in this rapidly growing market.