SuperBin has two key revenue models: Sale of recycling robots and of plastic flakes as raw materials.
The company sells Nephron robots to local governments and companies; and also charges maintenance fees. The robots are priced at around 21 million won ($18,000) per unit.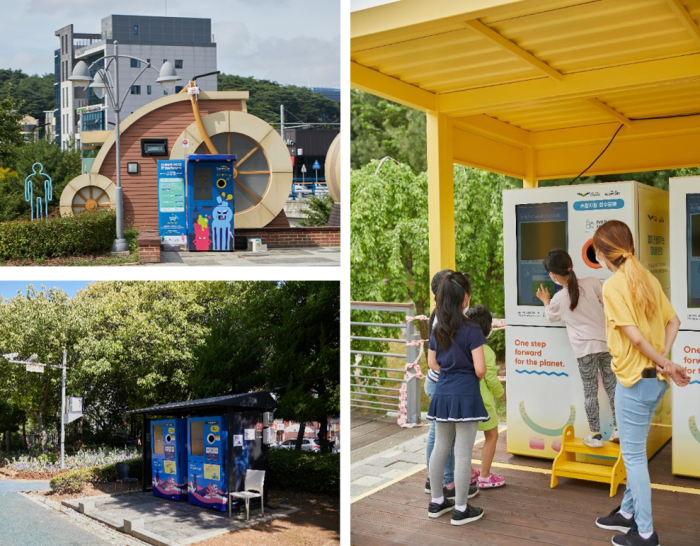 Last year, SuperBin logged revenue of around 1.8 billion won ($1.5 million.) As of October 2021, there are around 220 Nephrons scattered across Korea – as the company normally sells a few robots to each client.
This year, Gyeonggi Province has spearheaded the first large-scale Nephron project by deploying some 60 robots throughout the cities of Anyang and Ansan. This is the first time such a large number of Nephrons has been concentrated in a specific region. The city of Ansan will install eight extra Nephrons by the end of the year.
Increasing Nephron installations by local governments are expected to serve as momentum for SuperBin's business expansion, according to Kim.
SuperBin has also seen increased demand for Nephrons in the corporate sector, thanks to the domestic firms' growing appetite to include the environmental, social and corporate governance (ESG) criteria in their operations.
Major enterprises such as IT giant Samsung Display Co.; platform titans Naver Corp. and Kakao Corp.; leading food delivery service operator Baedal Minjok; and the country's No. 1 liquefied petroleum gas (LPG) producer SK Gas Ltd. all use Nephron. Naver also plans to install Nephron robots on each floor of its second headquarter, currently under construction.
Aside from supplying Nephrons, SuperBin is looking to include city waste management in its operations. The company will establish systems that manage daily waste, both recyclable and non-recyclable, in residential areas.
In December 2021, SuperBin will launch a waste management project in the Busan Eco Delta Smart City's Smart Village, one of the country's national pilot smart cities. It plans to establish seven recycling smart trash bins and one recycling station.
Currently at apartment complexes, recycling depends entirely on the residents' will to do so, which makes it hard to attain perfectly cleaned recyclables. SuperBin wants to change that by setting up an infrastructure that makes it easier to discern items that are fine to be recycled.
The second revenue model is manufacturing raw materials dubbed "flakes" from recycled PET.
They are made from clear PET bottles that are thoroughly cleansed, finely crushed and produced into plastic renewable materials or flakes, which are used as raw materials for textiles, construction and even office supplies.
Currently, SuperBin only sells a small quantity of flakes, for which the manufacturing is outsourced. However, the company will mass produce its own flakes once its plant construction is completed in early 2022.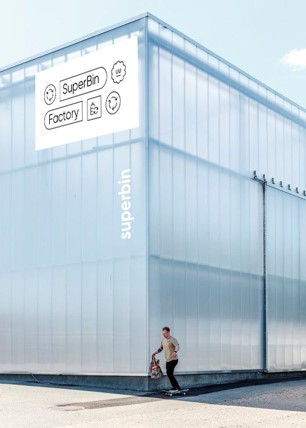 SuperBin's high-quality plastic flakes are currently traded at 1,500 won ($1.30) per kilogram, about 10 times more than a pile of regular plastic waste that weighs the same. SuperBin's flakes are also almost double the price of flakes made from general recyclables. The SuperBin products boast higher purity as they are made from clean waste that does not require much chemical processing.
"SuperBin is the only company in Korea to mass produce grade-A flakes. Korean petrochemical companies that use plastic flakes to make products have been importing about 1 trillion won ($856.1 million) worth of flakes annually from Europe and Japan," said Kim.
According to research by Samsung Securities, demand for recycled flakes that can be turned into long fiber reinforced plastic or PET bottles is expected to grow 14% each year going forward, to reach 3.8 million ton by 2025.