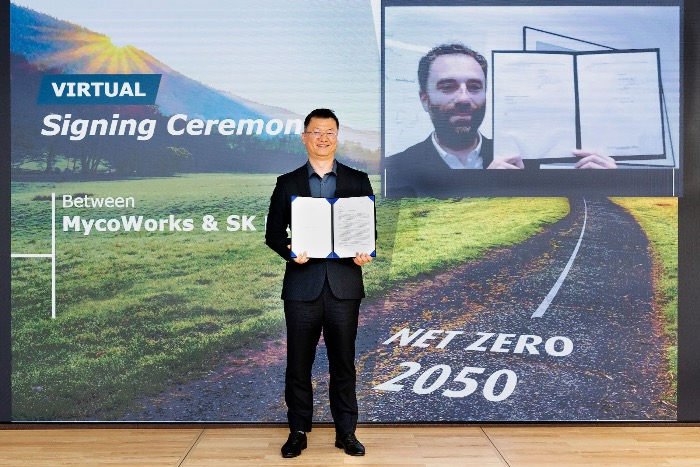 SK Networks Co. announced Friday it has invested $20 million in California-based biotech startup MycoWorks. 

The general trading arm of South Korean conglomerate SK Group took part in the Series C round of the $126 million funding for the US company specializing in making vegan leather from fungi. SK's injection of funds is the largest among the strategic investors, the company revealed in a press release. 

In a separate contract, SK Networks and MycoWorks agreed to cooperate in expanding the production capacity and sales networks, as well as in developing new materials. 

Founded in 2013 by Philip Ross, Sophia Wang, and Eddie Pavlu, MycoWorks is an industry leader in producing leather-like fabric from engineered mycelium, a biomaterial made out of mushrooms. There are only two companies in the world with the technology advanced enough for commercialization. Clients of MycoWorks' vegan leather include luxury fashion houses.

An alternative way of leather production like MycoWorks' can slash environmental damage and carbon emissions by more than 90% when compared to the traditional method of using animal skin. 

SK Networks' chief of new business portfolio Lee Ho-jeong said, "The deal is a result of meticulous market analysis and due diligence by SK Group." The executive added, "[We] took the high value of the alternative leather market and sustainability into consideration."

SK has previously named bio business as one of its main areas of growth, including biodegradable textiles.

Write to Jung-hwan Hwang at jung@hankyung.com

Jee Abbey Lee edited this article.